One of the greatest shifts in technology has been the advent of digital photography replacing film over the past five years.
Conventional film usage has done nothing short of plummet, while the rise of digital photography has seen a huge upswing.
Digital photography's rise has generally been keyed by multiple factors – the reusability of digital media, increases in the number of camera megapixels (MP) offered at lower costs, and the rapid increase in the size of digital flash cards allowing more pictures to be taken at higher resolutions.
And now a further digital development is likely to add the Single-Lens-Reflex (SLR) camera with interchangeable lenses to the endangered species list.
The latest generation of "superzoom" cameras is here, and the cost of these cameras has now come down to where most photographers will gladly shelve their bulky camera bags in favor of a single do-it-all camera that will fit handily in a purse or pouch.
These cameras offer huge zoom ranges in compact packages for little more than the cost of a good SLR zoom lens alone. And while professional photographers may still prefer individual lenses for specific uses, the vast majority of amateur photographers will see digital superzoom cameras as being little short of a panacea for most imaging needs.
I recently had the opportunity to test, courtesy of Kodak, the Z712-IS superzoom camera.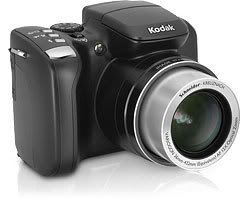 It features a 12x optical all-glass zoom lens with a 35mm equivalency focal range of 36-432mm, licensed from respected German lens designer Schneider-Kreuznach. The lens also features a reasonably fast focal range of f/2.8–f/4.8.
Other Z712-IS features include 7.1MP resolution, allowing for high-qualty 8x10 and even larger enlargements, ISO's up to 3200 for shooting in low-light conditions, optical image stabilization, and a 2.5" color display.
The camera also takes 640x480 MPEG-4 movies with sound at a full 30 frames per second, allowing users to record well over 30 minutes of video with a 2GB SD memory card (about $30).
Using the zoom is also possible in movie mode, a newer and much-needed feature on digital cameras.
All of this and more come in a camera retailing for $250 that's easy enough for most amateur photographers to start using in a few minutes, allowing users to shoot both images and movies through a single camera and on the same memory card.
Comparable models are now available from most manufacturers including Sony, Olympus, Canon, Fuji, Casio and Panasonic.
As examples, the Panasonic Lumix DMC-TZ3 adds a lens as wide as 28mm in a thinner body some may (or may not) prefer. The Canon S5 IS offers 8MP's and stereo sound recording.
Sony and Olympus have increased zoom ranges in their most recent offering, with the Sony DSC-H7 checking in with 15x and the Olympus SP-550 UZ offering a huge 28-504mm (18x).
All of these cameras are available for under $500 at the retail level, and offer a range of features that will take most users months to fully explore.
Be sure to check what type of memory any camera uses. Many newer computers come with built-in memory card slots, while an adapter may be needed for others.
Tom Meek is a computer and media consultant working with businesses and individuals on high-tech needs. Another Day In Cyberville is published weekly in print and online via The Gainesville Voice, a weekly publication of The New York Times Regional Newspaper Group. You can reach Tom Meek at adayincyberville@gmail.com.